Latest News
News
Nottingham Free School has Musical Talent!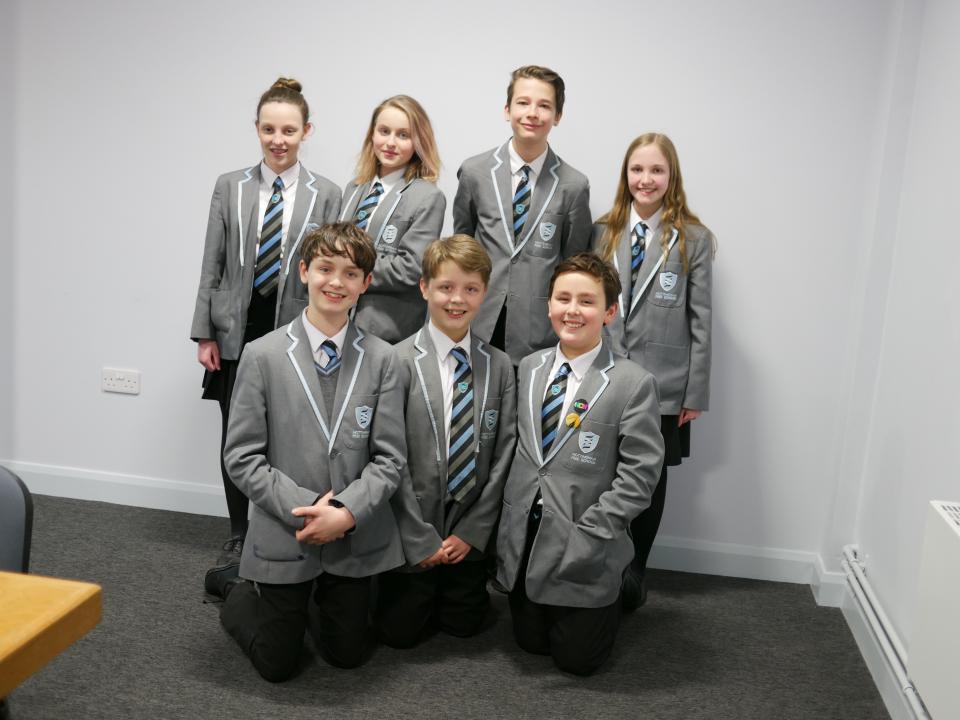 Two students at Nottingham Free School have beaten 19 other contestants to win Nottingham's Sing City 2016 event. Ellie in year 7 and Matthew in year 8, battled it out against other singers aged 11-19 to win the opportunity to sing at the Nottingham Albert Hall.
After making their way through several heats and auditions, Ellie and Matthew both won in their age category and then got to sing with two winners from the older category in front of up to 700 people in the magnificent Albert Hall.
Ellie Said "It was my mum that encouraged me to enter. I really didn't think I'd win. The whole competition was a really good experience and I loved performing at the Albert Hall."
Matthew then went on to compete in Noise from the Next Generation where he sang original songs that he has written himself. After completing his performances, he was thrilled to find he had won the Junior category, bagging himself recording time at YMCA Digital studios.
"Both competitions were so much fun. My music teacher Mrs Wilson told me I should enter and I thought it would be good for experience, especially on the performing side. I'd definitely do it again and would encourage other people to have a go too," he said.
But these aren't the only talented musicians in the school. We've been speaking to our year 8s and discovered that there are many Nottingham Free School students that are musically gifted.
Nottingham Free School has talent music Q&A
Who are you and what do you do?
Solly - I play guitar, cello, piano and I am part of the Robin Hood Youth Orchestra.
James – I'm currently grade 5 in classical Spanish guitar. I also play the piano and I'm part of an electric rock band.
Maddy – I sing and play piano which I've done since I was aged 7. I also like to perform in shows and at pub gigs.
Keira – I also play the piano and I'm in a choir. I'm going to be performing in Joseph and the Amazing Technicolor Dreamcoat at the Theatre Royal next month.
Noah – I enjoy singing and perform at school. I'm also teaching myself to play guitar.
Ellie - I love to sing and I play the keyboard too. I also go to Band Factory.
Matthew – I sing and play guitar. I really enjoy writing my own songs and performing them.
What is it about music that you love?
Matthew – I think I like writing original things because it's a good way of expressing myself.
Noah – For me it's the performing, the thrill of it is great. It's a mixture of excitement but nerves too.
James – Yeah me too, I love performing.
Ellie – I didn't used to be a singer, but when I played the piano my teacher encouraged me to give it a go. Now I love it.
Maddy – The thing I love about music is how it's helped me with my dyslexia. I feel better when I sing and play the piano, performing is such a good feeling.
James – My Dad is a folk musician and has made two albums, so he got me into guitar. My Mum sings so she got me into singing so I'd say they are my inspiration.
Solly – Mine would be Coldplay. I would love to be Chris Martin.
Maddy - If it's a singer then mine would be Amy Winehouse, her music not her lifestyle. I also really like Billie Holiday and Ella Fitzgerald, old songs with real meaning inspire me.
What is your favourite genre of music?
Ellie – For me it's pop and Alistair Griffin.
Solly – Classical, Jazz, Rock, Metal, Pop, Indie, ok pretty much most genres!
James – I quite like old pop and classic rock but that's probably because of my Dad.
Maddy - Yeah I like some pop and also Jazz.
Keira ­– I like pop music too, I think we all do!
What are your plans for the future?
Keira - In the immediate future I have the Joseph performance but I'm not sure about in the long term.
Noah - I'd like to get involved in more competitions and experience a bigger crowd.
James – I don't really want a career in music, I think I'll continue doing it as a hobby but I would quite like to be a lawyer.
Noah ­– I'm the same, I'd like to go into fashion as a career rather than music.
Solly – Yeah I'd want to be an engineer, although I'd still enjoy Spanish Guitar as a hobby, maybe even a show or two.
More News Stories
February 2019
| M | T | W | T | F | WE |
| --- | --- | --- | --- | --- | --- |
| | | | | 1 | 2 |
| 4 | 5 | 6 | 7 | 8 | 9 |
| 11 | 12 | 13 | 14 | 15 | 16 |
| 18 | 19 | 20 | 21 | 22 | 23 |
| 25 | 26 | 27 | 28 | | |