Latest News
News
GCSE PE - Potential Reform (Practical Sports)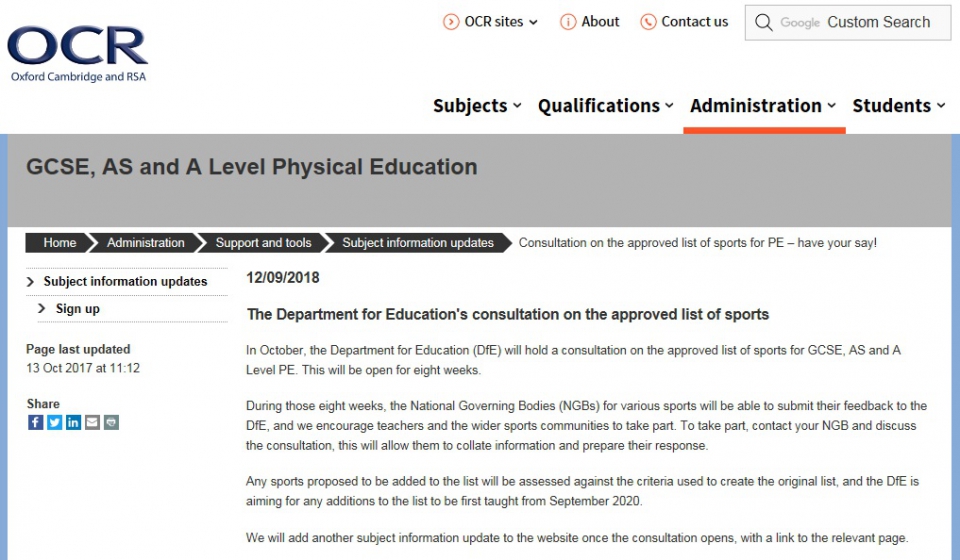 When the examining boards reformed GCSE PE, we were left with a very narrow list of sports in which students could be assessed in.
After a lot of difficulty with obtaining marks for students in 3 of these sports, I am pleased to share with you that it looks like OCR may have been feeling the unhappiness of students/parents/carers/teachers and (as per the image) have decided to open an eight week consultation with governing bodies to potentially consider some more sports.
If you are currently studying GCSE PE and want to push your sport's viability, please contact the relevant governing body with this information and put the pressure on them to put the pressure on OCR.
We really need the list to expand to make the subject more viable for so many more people, so please help!
More News Stories
September 2018
| M | T | W | T | F | WE |
| --- | --- | --- | --- | --- | --- |
| | | | | | 1 |
| 3 | 4 | 5 | 6 | 7 | 8 |
| 10 | 11 | 12 | 13 | 14 | 15 |
| 17 | 18 | 19 | 20 | 21 | 22 |
| 24 | 25 | 26 | 27 | 28 | 29 |